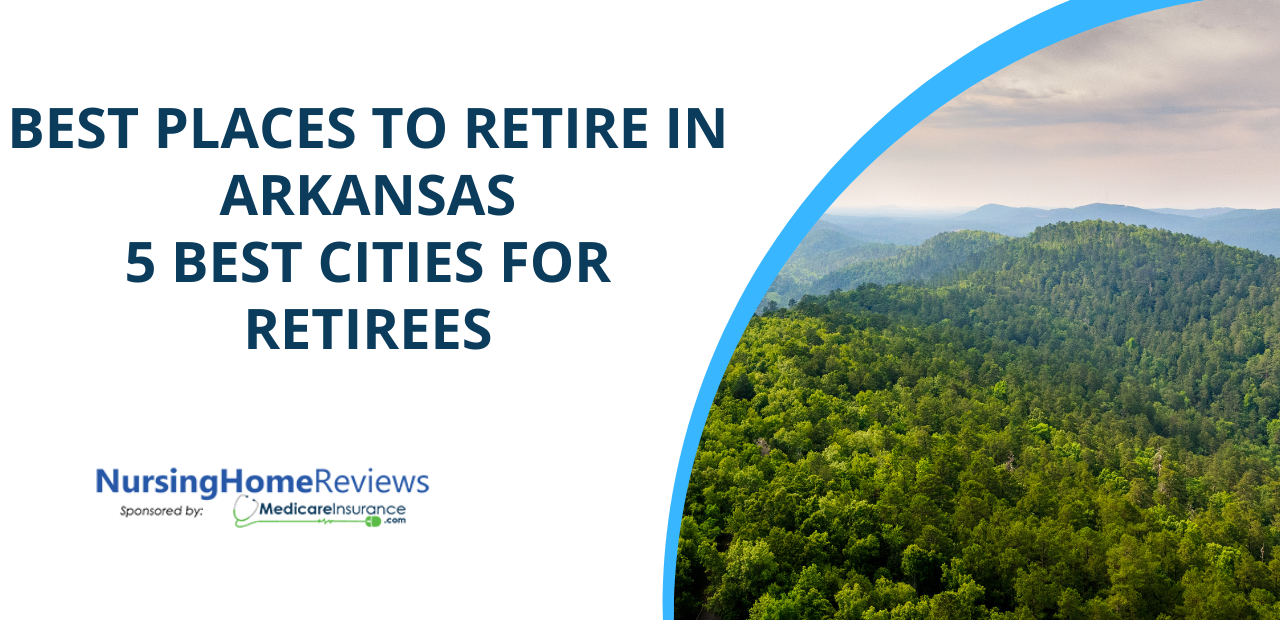 Looking for the best places to retire in Arkansas?
Arkansas is one of the best-kept secrets when it comes to retirement, with a cost of living well below the national average and access to no shortage of natural beauty. If you're looking to retire to Arkansas, there's no shortage of places to lay down roots. Still, which one is the best? We've compiled a list of towns and cities across the Natural State that we think you'll love. As part of our ongoing series of retirement guides, these are the five best places to live in Arkansas for retirees.
5. Hot Springs
Arkansas is known for its ancient thermal springs, which have attracted bathers for longer than recorded histories. The area's indigenous people attributed healing powers to the waters: legends that persist to this day. The springs here are so treasured that they represent the first time ever the US government set aside land for conservation and recreation, predating even Yellowstone. Hot Springs National Park was a national park before the concept even had an official name. Talk about historic.
Today, visitors can seek out a traditional bathing experience in the Buckstaff Bathhouse, or enjoy a more modern spa experience at the nearby Quapaw Baths and Spa. However, you don't move to a town just to soak in a bath all day. Fortunately, Hot Springs remains a vibrant resort town with plenty of activities for young and old alike. 
Fitting with the city's origins, there's no shortage of spas and resorts in the area, making a perfect place to unwind or organize a staycation. The grandkids will enjoy the plethora of activities, like escape rooms and adventure parks, while adults will love the vibrant art and restaurant scene. Nature lovers can enjoy the gorgeous forests and trails, while history lovers can walk in the footsteps of Al Capone, or take a chilling haunted tour through the city. 
A home in Hot Springs is a bit more expensive than what you'd find elsewhere in Arkansas, but compared to other retirement states it's practically a steal. You're also just an hour from Little Rock, putting you within reach of some of the best hospitals in the country.
4. Bella Vista
Of course, the issue with resort towns is that they inevitably attract lots of tourists. Sometimes you want that vacationland vibe without having to share it with people on vacation. If this applies to you, you'll probably love Bella Vista. This former resort town turned retirement community has the relaxed vibe you're looking for. Located near the Ozark Mountains, Bella Vista lives up to its name with seven scenic lakes, and breathtaking nature trails.  Though it lacks some of the tourist amenities of Hot Springs, it makes up for it with a very resident-focused community with plenty of golf courses, nature trails, and a marina. Luxury comes at a price, however. Bella Vista's home prices are noticeably higher than elsewhere in Arkansas, and includes membership in a property owner's association. Still, with a larger 65+ community and plenty to do, this town is worth a look.
3. Cherokee Village
Cherokee Village is another gem hidden in the Ozarks, continuing the trend of resort towns turned retirement villages, with access to seven lakes, two rivers, multiple golf courses, and plenty of quiet charm. Like Bella Vista, you'll be paying a property owners fee to enjoy resort level amenities. Unlike Bella Vista, however, the cost of living is much lower. Median prices for homes are under $100,000, letting you enjoy resort town luxury at a small town price.
Concerned about access to medical facilities? You shouldn't be: there are multiple top-rate hospitals within one hour of the village, and many medical facilities designed for seniors in the town itself. Cherokee Village is only two and a half hours from both Memphis and Little Rock, meaning should the worst occur, a transfer to a world-class hospital is much easier than you'd expect. If you want the resort town experience, Cherokee Village is one of the best cities to retire.
2. West Memphis
We're not going to lie to you. West Memphis is a city that needs some serious love. A suburb of Memphis, TN, located just across the Mississippi, West Memphis has run into some hard times. Crime rates are up, property value is down, and you're definitely not getting a resort town experience. What you are getting, however, is opportunity. Efforts are ongoing to revitalize the area, with the first new housing development in 40 years breaking ground this year. 
If you're willing to take the risk, there are some pretty big benefits. Being near Memphis means you're minutes away from the birthplace of American blues, rock, and soul. In addition to a music scene that could only come out of Memphis, you also have access to Memphis area hospitals and medical facilities without needing to pay Memphis prices. It's not for everyone, but if you plan properly you can secure a comfortable retirement near one of the south's most iconic cities.  
1. Mena
Alright, so far we've shown you three resort towns of various popularity and a suburb. What if you don't want that? What if you want to get away from it all? No tourists, no POA, just a cozy small town in one of the most beautiful parts of the state? If that appeals to you, Mena might just be one of the best places for you to retire. 
Located in the Ouachita National Forest, Mena sits at the foot of the second tallest landmass in Arkansas: Rich Mountain. Take up a drive up the mountain to Queen Wilhelmina State Park, and you can enjoy the gorgeous views, scenic roads, and incredible hiking. 
Nearby Lake Wilhemina will also serve all your fishing and recreation needs. The best part? When we say Mena is a small town, we mean it: the population hovers at around 6,000 people. Technically, that counts as a mid-sized city according to the US Census, but in this scenic spot, can you blame people for wanting to move in?
Mena's isolated feel isn't for everyone. While there is a nearby airport, you're far from major cities, and the local hospital is pretty small. However, if you don't need regular hospital care, Mena is incredibly tempting. The median price for houses is less than $100,000, and the cost of living is even lower than Arkansas's already low average. 
Find your perfect home.
Check ratings and violations from across Arkansas.
REGISTER HERE
Wherever you choose to retire, if you ever need a little extra help, we can help you find it. Our free comparison tool has up-to-date information on nursing homes and assisted living facilities, including the latest ratings and reviews and any violations you should be aware of. Enter your zip code today to begin your search.