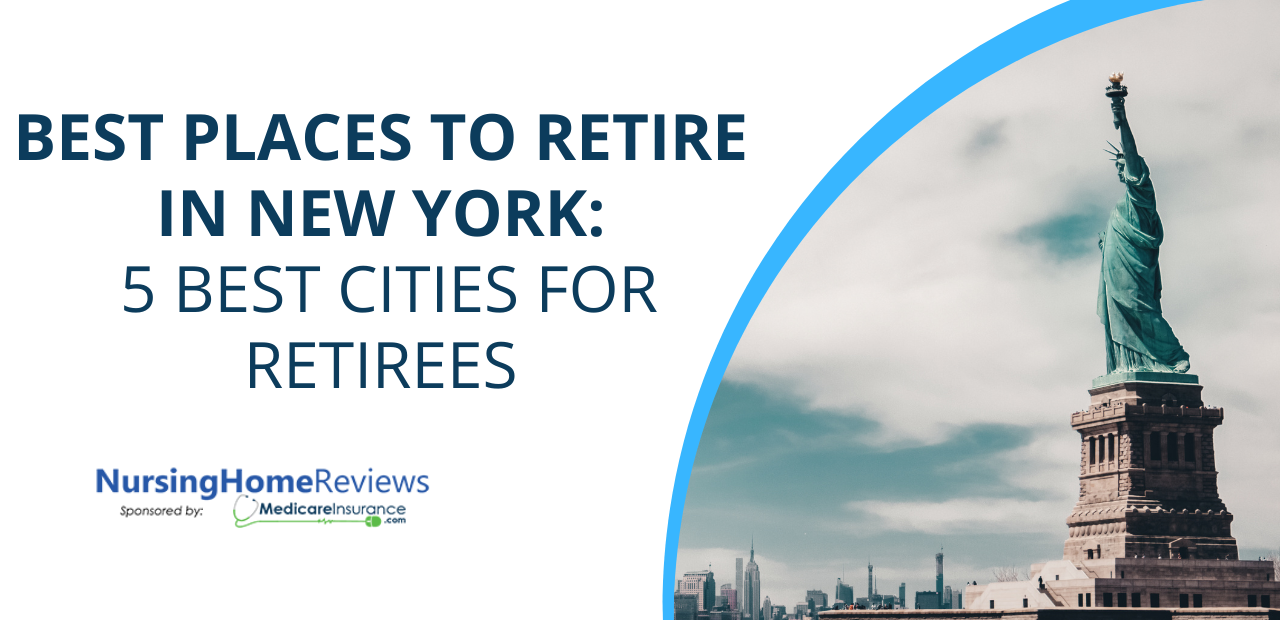 Looking to Retire in the Empire State?
Some of the best places to retire in New York might surprise you. If you're not a native New Yorker, it's easy for New York City to dominate the state in your imagination. It's iconic, but it's not exactly the best place to retire. Housing is expensive, and many of the more affordable options aren't built with seniors in mind, so many people rule it out entirely, missing out on everything else the state has to offer. 
Take a closer look, however, and you'll see that New York State is one of the best places to retire in the country.
Why New York?
We've written a lot of retirement guides, and a common theme among our top-rated communities is that they're small to mid-sized towns. We consider many factors when choosing our top communities: affordability, access to health care, recreation and culture, etc. It just so happens that quiet, mid-sized towns tend to check most of those boxes. 
However, if you're looking at retiring in New York, you're not looking for 'quiet'. Don't misunderstand, there are plenty of quiet spots in New York State, but no matter where you go you're just a short trip away from the beating heart of America. They say that if you spend enough time in New York, you'll never want to live anywhere else. 
If you're one of those people who have fallen in love with New York, this article is for you. If not, there's still plenty of reasons for you to ❤NY. Here are five of the best cities to retire to in New York.
Niagara Falls and Buffalo
Located right on the Canadian border, Niagara Falls is home to one of North America's most spectacular sights. Niagara Falls State Park is one of New York's biggest tourist attractions, and one of the most accessible parks in the country, allowing visitors reliant on mobility aids to experience the power and beauty of the falls. 
Admission is free, and the park is open 24/7/365, meaning you could spend every day of your retirement basking in the beauty of nature. Just don't try going over it in a barrel, because they really don't like when you do that.
Of course, Niagara Falls (the city) is much more than Niagara Falls (the waterfalls). It's located so close to Buffalo, NY that the two are nearly always mentioned in the same breath, offering a taste of urban life with a much different vibe than NYC, but far from lacking in culture. 
The region is also big on social justice, making it a great place for LGBT retirees to settle down. Sports fans can cheer on the Buffalo Bills while dining on Buffalo's signature wings, and budding card sharks can practice their poker faces at one of the area's casinos.
Looking for something a bit more low-key? Niagara is also prime New York wine country, offering scenic drives and vineyard tours. You'll be sure to love the Fall season here, as the foliage explodes in a burst of color and the Mayer Bros Cider Mill begins performing autumnal alchemy, transforming the year's apple harvest into all sorts of treats. When it comes to a balance between Urban New York living and the spectacle of nature, Buffalo and Niagara can't be beaten.
Great Neck
If you're more of a village person than a city dweller, it's hard to go wrong with Great Neck. Ranked as the number one retirement spot in New York, Great Neck is one of NYC's 'bedroom towns', meaning it's free from the tourist attractions endemic to the state, but is still close enough to Manhattan that you could get there with just a short train ride. 
Fans of literature might know Great Neck by a different name: West Egg, the setting of F. Scott Fitzgerald's The Great Gatsby. The novel was inspired by Fitzgerald's experiences in the 1920s social scene, back when Great Neck was a hub for New York celebrities. Though the names were changed for the novel, critics agree that the Great Neck peninsula, which Fitzgerald once called home, was his inspiration for the setting. You can find plenty of Gatsby-esque manors along the coast, many of which have been converted to hotels and public gardens. 
Great Neck is popular among retirees, with 18 percent of the population being seniors. The palatial Long Island vibe, robust medical infrastructure, and ready access to Manhattan also make it a popular choice for the 65 and older set. 
Just be warned: unlike Nick Carraway, you won't have an easy time finding a modest bungalow here. Many of the houses here go for millions of dollars, and even renting an apartment can cost a pretty penny. You'll also be close enough to New York City to pay their additional income tax, adding some extra financial burden. Still, if you've got the funds and don't mind condo living, Great Neck remains one of the best cities to retire to.
Saratoga Springs
Located just outside Albany, Saratoga Springs is New York's quintessential resort town, especially for fans of equestrian sports. The historic Saratoga Race Course is home to the Travers Stakes, one of the largest events in horse racing outside of the Triple Crown. Race season runs all summer long, and there's nothing like seeing one of those magnificent thoroughbreds up close. Saratoga is also home to plenty of ranches and equestrian centers, offering horseback riding lessons, scenic carriage rides, and plenty of other activities designed to bring you up close and personal to these magnificent animals.
Of course, Saratoga is far from a one-horse town. The city is famous for its effervescent mineral springs, said to have healing properties. While many of the more extravagant claims surrounding these naturally carbonated springs have been debunked, they've been found to serve as natural iron supplements and antacids, depending on which fountain you drink from. 
The touted health benefits have also led to Saratoga becoming a hotspot for spas, making it a perfect place to be pampered. You can even take a private soak in a mineral bath after a day of exploring Saratoga's famous vineyards. 
Ithaca
Considered one of the best places to live in New York for retirees, Ithaca is New York's college town, home to Ithaca College and Cornell University, two of the most prestigious universities in the country. If you're looking to continue your education, Ithaca is a great place to settle down. Even if you don't want to go back to school, you can still experience the beauty of Cornell's Ivy League campus, including its famous botanical gardens and library.
As T-shirts and bumper stickers across the city will profess, "Ithaca is GORGES!" While not as large or as famous as Niagara, Ithaca boasts over thirteen scenic waterfalls, formed when the region was carved out by glaciers millions of years ago. For the cultured intellectual who wishes to expand their horizons while surrounded by natural beauty, Ithaca is a dream come true.
Oh, and if that sounds a bit pretentious, Ithaca is also famous for being the birthplace of the first recorded ice cream sundae, a claim they hold dear to their hearts. If you're a fan of ice cream, you'll find no shortage of it here. 
Lake Placid
Located in the Adirondack Mountains, Lake Placid is a haven for winter sports enthusiasts, having hosted not one but two Olympic games, and plenty of other major sporting events. Home to rocky peaks, gorgeous forests, and the lake which gives the community its name, Lake Placid is an idyllic mountain town with plenty to offer. 
The town is beloved by all manner of nature lovers, and prides itself on accessibility. You can enjoy beautiful nature trails or experience the thrills of the nation's longest alpine coaster even if you need mobility aids. The city is also home to fine dining, spas and salons, and a vibrant artistic community. The lake may be placid, but you'll still find plenty of excitement here.
Find your perfect New York home.
Check ratings and violations.
REGISTER HERE
No matter where you choose to retire, we can help you find a nursing home or assisted living community with our free comparison tool. Enter your zip code to get up-to-date rankings, reviews, and violations of nursing homes around the country.