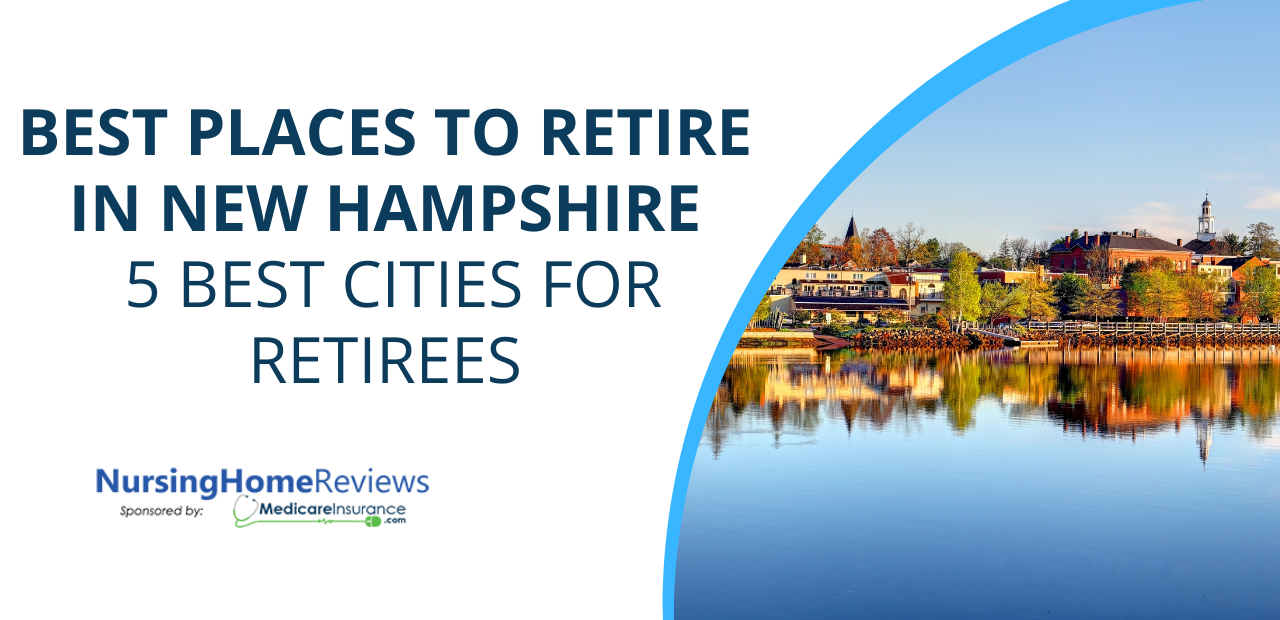 Looking to retire in the Granite State?
If you asked someone to describe the platonic ideal of the American countryside, what they'd describe wouldn't be far from the reality of New Hampshire. Despite being one of the most industrialized states in the nation, the Granite State is filled with spectacular forests, rolling mountains, and idyllic towns that are perfect for settling down. With a low tax burden, as well as no income or sales tax, you can even save a bit of coin by choosing to settle up north. Courtesy of Nursing Home Reviews, here are five of the best places to retire in New Hampshire.
5) Exeter
Halfway between Boston, MA and Portland, ME lies the historic town of Exeter. During the War for Independence, Exeter served as a base of operations for the revolutionary forces, and it proudly bears the symbols of its patriotic history. Even today, the seemingly unassuming town is a key stop on the presidential campaign trail, cementing its key role in our nation's governance. Needless to say, the annual Independence Day celebration is quite a spectacle. 
Exeter is well known for its natural beauty, experiencing all four seasons in storybook form: pleasant summers, snowy winters, and explosions of color each autumn. Lovers of nature can enjoy conservation trails, farmlands, and a robust farmer's market. A robust healthcare system and low tax burden make Exeter one of the best cities to retire.
4) Portsmouth
Bordering Maine along the Piscataqua River, Portsmouth is New Hampshire's main seaport and a popular summer destination. One of New England's major ports, Portsmouth has no shortage of things to do, from its famous music hall to its many historic museums. 
The nautically inclined will love the regular day cruises to the Isles of Shoals, or fishing for striped bass or bluefish. Portsmouth is also one of the only cities on this list with a commercial airport, albeit one with limited service. Still, for those who love to vacation, regular flights to destinations like Nashville and Tampa can make Portsmouth a tempting place to rest your head.
3) Berlin
Sitting at the edge of the White Mountains, Berlin is home to the oldest ski club in America, the Nansen Ski Club. The town once hosted Olympic-level skiing competitions thanks to the Nansen Ski Jump, lovingly referred to as "Big Nansen", standing at a towering 171.5 feet! The jump was shut down in the 1980s, though the Nansen Ski Club is currently in the process of restoring it to its original glory. The club also offers less intimidating ski jumps and more relaxed trails for those not interested in launching themselves through the winter skies. 
When the snow thaws in the summer, residents of Berlin can enjoy moderate summers and beautiful camping, fishing, and hiking conditions. If you're looking for adventure, Berlin can be one of the best places to retire.
2) Rochester
Also known as the Lilac City, Rochester is a hub for the arts. The Rochester Museum of Fine Art hosts exhibitions by contemporary artists like Eric Carle (of The Very Hungry Caterpillar fame) and Robert Indiana (creator of the famous LOVE series of sculptures and images). 
Fans of music and theater can catch a show at the historic Rochester Opera House, while the nearby Rochester Performance and Art center welcomes budding performers of all ages with theater camps and music lessons. The literati can enjoy Rochester Writer's Night, featuring live performances of prose and poetry. You may even be able to find inspiration for that novel you've been meaning to write.
1) Londonderry
Remember when we said Portsmouth was one of the only cities on this list with a commercial airport? When it comes to staying close to the action, Londonderry blows Portsmouth out of the water. Londonderry lies adjacent to Manchester, the most populous city in New England, and is only an hour's drive from Boston. The Manchester-Boston Regional Airport has ten times the traffic of Portsmouth, offering flights around the country. 
Yet despite its urban proximity, Londonderry sticks close to its origins as a farming community and is home to several orchards and farmer's markets, making it a popular fall destination. If you're looking to retire to New Hampshire but don't want to be totally cut off from metropolitan life, Londonderry might be what you're looking for.
No matter where you choose to live, we're here to help you with lifestyle guides, up-to-date reviews on nursing homes, and much more. If you're looking for a nursing home or assisted living facility, enter your zip code into our free comparison tool to begin your search.
Find your perfect home.
Check ratings and violations in New Hampshire and beyond.
REGISTER HERE