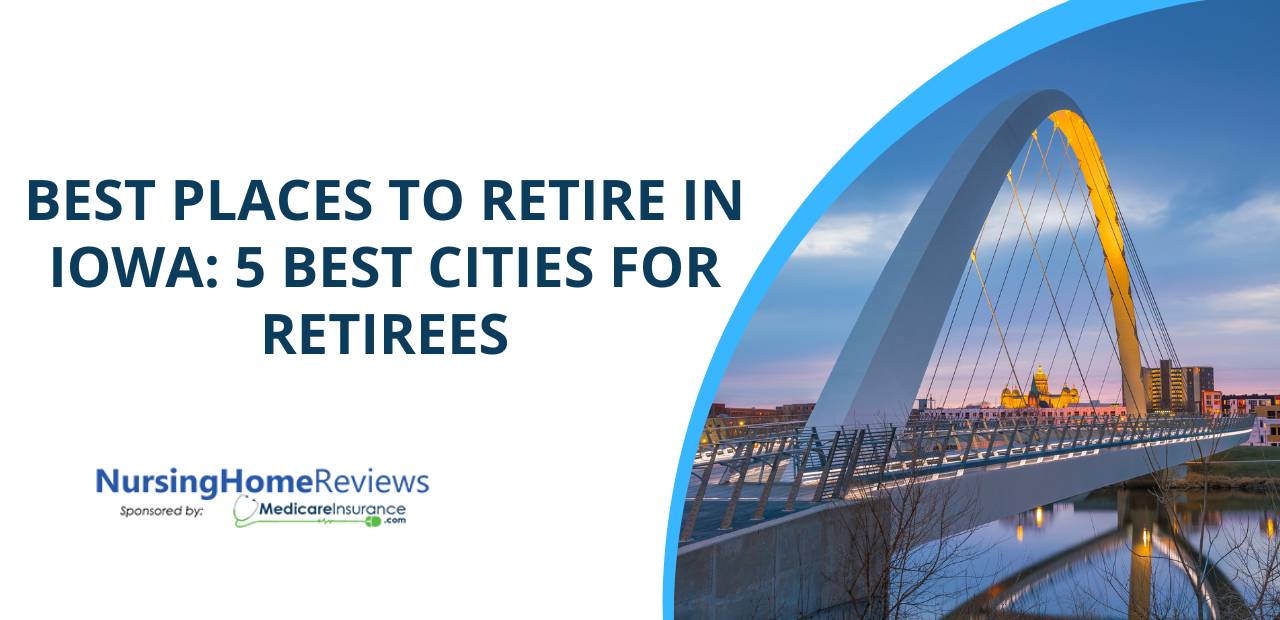 Looking to Retire to Iowa? The Hawkeye State is a Hidden Gem!
Let's be honest: when you think of the best cities to retire, Iowa isn't exactly a state at the top of your list. However, Iowa is so much more than cornfields and caucuses. With friendly tax rates (especially property tax), cost of living expenses, and real estate prices well below the national average, your retirement savings will thank you. With thousands of acres of unspoiled nature, you can build your own slice of Iowa paradise into your retirement plan. For those of you looking to build on your retirement plan in the midwest, here are five of the best places to live in Iowa for retirees.
Need a nursing home or retirement community in your Iowa city?
REGISTER HERE
5. Cedar Falls and Waterloo
Home of the University of Northern Iowa, Cedar Falls, and its nearby neighbor Waterloo, are riverside cities with a decent-sized population and plenty of things to do. There are museums, opera houses, and plenty of places to enjoy the outdoors. 
Baseball fans in particular will have a lot to enjoy here: the Cedar Rapids Kernels are the resident minor league team, but you might be surprised to find another baseball landmark just an hour away: the iconic Field of Dreams, from the film of the same name. 
Book a stay at the Kinsella homestead and watch real-life "ghost players" practice in the field, or simply tour a museum covering the history of baseball, the film, and the book that inspired it.
4. Des Moines
Iowa's capital city is also its largest, though it's a far cry from the chaotic capitals of the northeast. This pedestrian-friendly city is filled with gorgeous art, quaint storefronts, and welcoming cafes, making it a perfect place for people looking to enjoy city life without the chaos. 
Those with a green thumb can enjoy the Greater Des Moines Botanical Garden, home to over 1200 taxa of plants. With housing prices well below the national average and access to some of the best hospitals in the state, Des Moines is one of the best cities to retire. 
3. Sheldon
Sheldon, despite being the largest city in its county, is home to approximately 5,000 residents. As such, it's perfect for people who enjoy a quieter feeling town while still having access to amenities like a stellar healthcare system. 
Sheldon is most famous for its marigolds, which bloom across the entire city during the summer and fall in an explosion of color. Businesses across the city, and even their local school sports teams, incorporate orange and black into their designs, paying tribute to the city's iconic flora.
2. Burlington
While all of Iowa is affordable, living in Burlington is a steal. This city of approximately 24,000 boasts some of the lowest housing prices in the state, along with plenty of parks, golf courses, and even a casino. 
Burlington is also home to Snake Alley, the most crooked street in the world. It makes San Francisco's famous Lombard Street look like a straight line in comparison! Cyclists gather in Burlington for one of the most challenging races in the midwest: the Snake Alley Criterium, which features the road as its most daunting obstacle. 
Of course, if you're not into feats of physical prowess, you can always attend one of the more relaxed events on this strange street, like an art fair or film festival.
1. Marion
Located near Cedar Rapids, Marion is a rapidly growing city with many parks, art, and recreation. The town is named after Revolutionary War hero Francis Marion, AKA The Swamp Fox, who is the focus of a yearly festival with fireworks, pancake breakfasts, and other family friendly activities. 
Fans of golf can also enjoy the city's many golf courses, basking in beautiful Iowa weather. If you're looking for urban adventure, nearby Cedar Rapids is home to multiple museums, theaters, and galleries. A caveat, however: the Cedar Rapids area is prone to flooding, so be sure to take that into consideration when shopping for a home. 
Find your perfect nursing home or retirement community in Iowa today.
Check ratings and violations.
REGISTER HERE
If you're looking for a nursing home, be it in Iowa or anywhere else, we can help. Our database is full of up-to-date information on assisted living facilities and nursing homes, covering everything from ratings and reviews to any violation records you need to know about. Enter your zip code to begin your search for a new home today.