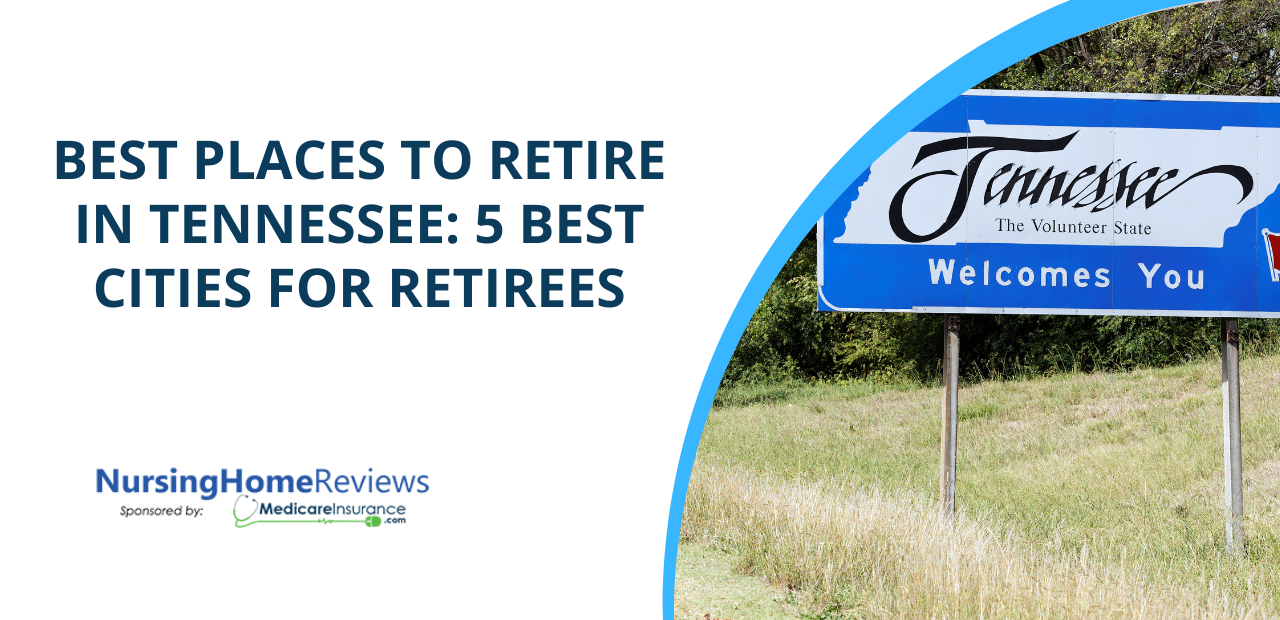 Tennessee is Emerging as a Major Hotspot for Retirees
When you're searching for the best places to retire in the United States, it can be tough to find a place that ticks all of your boxes. Sure, some places may be easier to pinpoint than others. Take, for instance, Oregon and North Carolina. Both offer:
Fairly comfortable year-round temperatures

Easy proximity to the mountains and/or the coast

Plenty to do for active seniors

Affordable housing for those buying or renting

Stellar healthcare
What about other states, though? A quick search will lead you to states you'd never consider that house some of the best cities to retire to in the country. Tennessee easily ranks as one of those states.
The self-proclaimed "birthplace of country music" often gets the reputation of being, well, an overly-countrified state. That often scares away seniors who are looking for an area that's more contemporary and metropolitan. If you look close enough, you'll find that Tennessee has more than grown with the times.
Our list was a tough one to narrow down, but we were able to compile a list of five of the best places to retire in Tennessee. As always, to create our list of the best places to retire in Tennessee, we followed a specific list of criteria that includes:
Cost of living

Access to quality healthcare

Quality of life

Recreational activities and attractions
Want to learn more about the best places to retire in Tennessee? Check out our list below!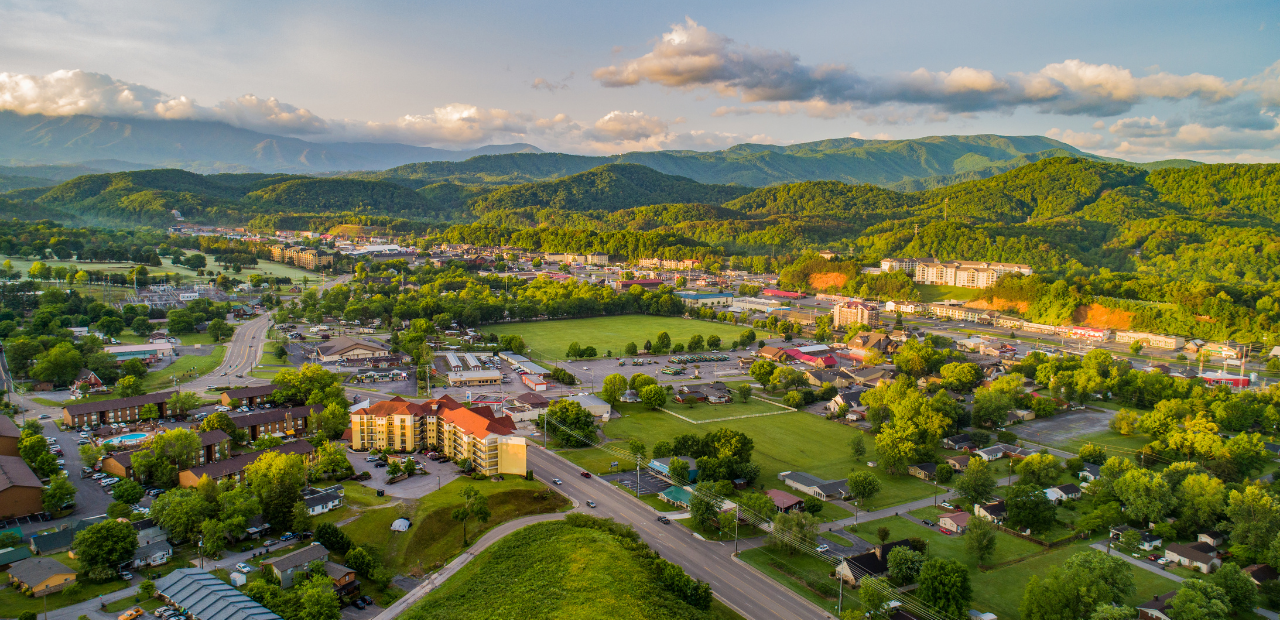 5: Pigeon Forge
This moderately-sized city, adjacent to popular Gatlinburg, has quickly emerged as one of the top tourist destinations in the United States. It's also becoming a top destination for retirees who seek country solitude that's close to an active area with plenty to see and do.
Nestled in the Great Smoky Mountains, Pigeon Forge offers plenty of opportunities for sightseeing and hiking. Great Smoky Mountains National Park is just a short drive from the center of town, and sites like Friendly Falls and Wear Farm City Park offer numerous opportunities to enjoy engaging with nature. If you prefer a leisurely drive, the lovely wonders of Cades Cove await you nearby.
Pigeon Forge is a wonderful place to live for those who are young at heart. Thrillseekers will find any number of exciting Alpine Coasters dotted around the area, and world-famous Dollywood is right in your own backyard. You'll also find a wide array of exciting activities right on the strip, from go-karts and arcades to the so-cheesy-it's-hip Jurassic Jungle Boat Ride. For those of you who enjoy something a little more tame, Pigeon Forge is also home to a number of incredible museums, wineries, and shopping outlets.
Cost of living in Pigeon Forge isn't the lowest around, but it's manageable, sitting at about 2 percent below the national average. You won't have to pay state income tax for taxable wages, which is a plus, but steeper-than-average sales taxes may make up for this. The average cost to buy a house in Pigeon Forge is $469,000 as of April 2022, while the average cost to rent a base 1-bedroom apartment is around $830. Of course, there's always the option to drop the burden of being a homeowner and live a life of relaxation in any of the numerous senior and retirement communities located in the area!
Though the city of Pigeon Forge is rather small, there are a number of hospitals, urgent care centers, and other healthcare providers within driving range. Some of the quality providers you'll find in the area include:
LeConte Medical Center

Parkside West

Covenant Medical Center

University of Tennessee Regional Health Center – Sevierville
In short, when you're looking for the best places to retire in Tennessee, Pigeon Forge should be on your list of potential areas. With plenty to see, plenty to do, and numerous providers around to help you keep your health in check, it's certainly one of the best places to live in Tennessee for retirees.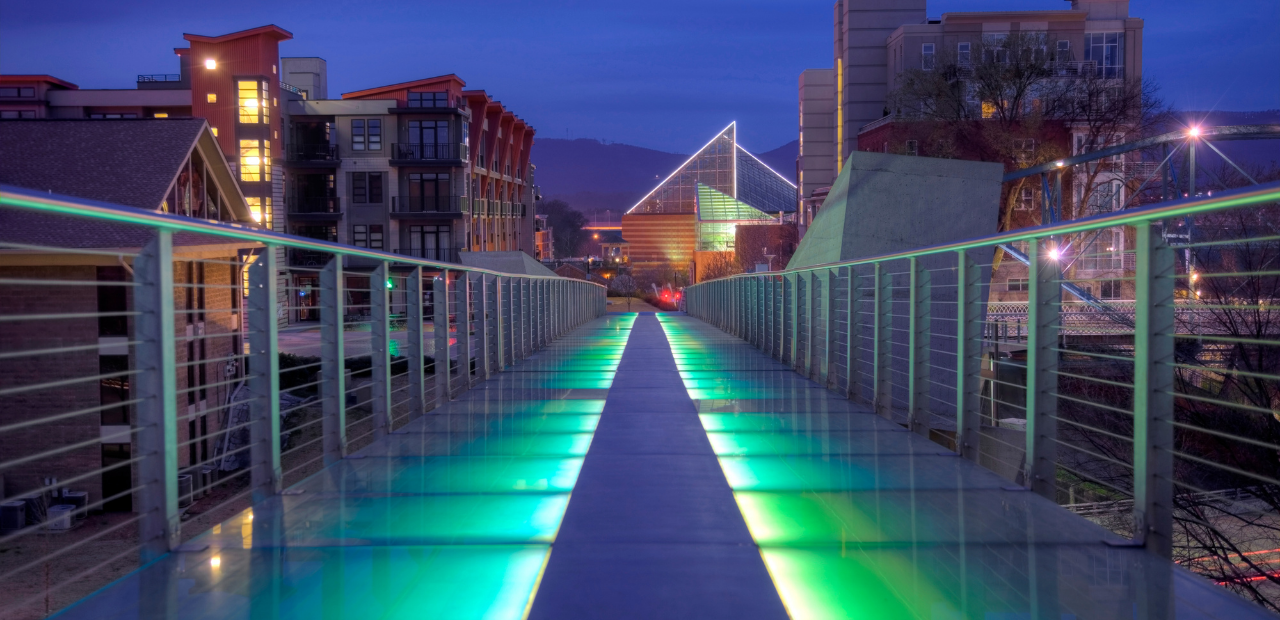 4: Chattanooga
What makes the city of Chattanooga one of the best cities to retire in the United States? For one, you'll find that the area has a pleasant, mild climate almost year-round. For another, Chattanooga offers the perfect mix of city and country, making it an ideal destination for those of you who love both.
Part of what makes Chattanooga a reason to retire to Tennessee is the sheer amount of activity it offers for seniors who like to keep active. Rock City Gardens offers a walking trail with lovely views, and its neighbor, Ruby Falls, offers a walk through an iconic cave which features a striking 145-foot waterfall. The Civil War battle site of Lookout Mountain offers more caves and walking trails to explore, and the city center of Chattanooga itself can be a great walking workout.
There's plenty of culture to absorb as well in what can be considered one of the best places to retire in the country. The Tennessee Aquarium puts a little bit of the beach within driving or walking distance, and the Hunter Museum of American Art offers a vast collection of American art. Music lovers may enjoy Songbird's, a guitar museum and live music venue for tunesmiths, and those looking for a thrill will find it at Lake Winnepesaukah Amusement Park. Of course, after a long day of sightseeing, you'll find plenty of opportunities to relax and enjoy local drinks and eats.
For those of you who are looking for a less expensive place to live, Chattanooga is an ideal destination. The cost of living here is almost 20 percent below the national average, and the cost of buying a home is relatively inexpensive in today's market at $284,940 on average. If you're looking to rent a place, you may find the cost to be a little steep, as the average basic 1-bedroom here rents for around $1,119. If you're looking for a change of pace, Chattanooga is also home to a variety of top-tier retirement communities.
If health issues arise, you're in good hands in the area. Chattanooga is home to a variety of top-rated hospitals, including:
CHI Memorial Hospital – Chattanooga

Kindred Hospital Chattanooga

Parkridge East Hospital
You'll also find a number of other excellent healthcare providers, from dedicated Primary Care Physicians and specialists to urgent care centers.
Are you or a loved one looking for a retirement community or nursing home in Tennessee?
REGISTER HERE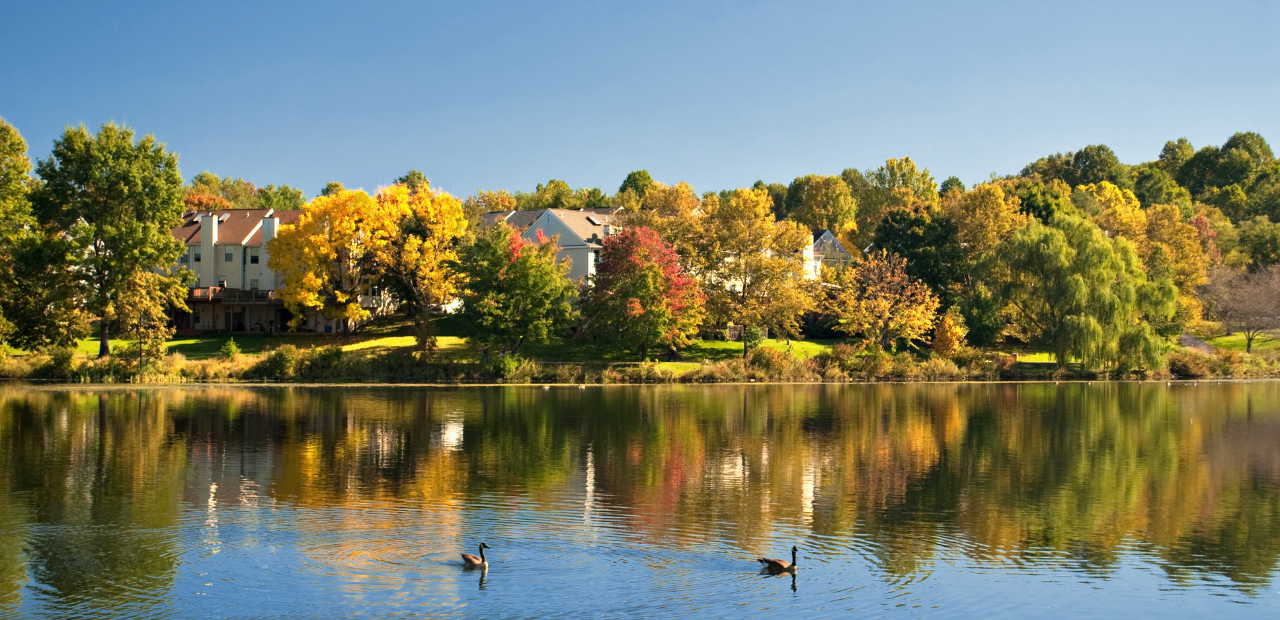 3: Germantown
Moving west, we find another one of the best places to retire in Tennessee just outside of Memphis. Germantown is considered to be one of the safest and most beautiful places to live in the state, perfect for retirees who are looking to live a quiet, peaceful life.
Compared to some of the other cities on this list, Germantown comes up relatively short on major activities and attractions. It more than makes up for that with the amount of walking trails, parks, and performance art venues. Fort Germantown Park allows you to walk among replicas of howitzer cannons used by the Union in the Civil War, and Shelby Farm Park and the Shelby Farms Greenline offer opportunities for walking, biking, and fishing. If you're looking for more to do, you're just a short distance away from bustling Memphis!
Germantown is a relatively affluent area, which means the cost of living is higher here than it is in some of our other best places to retire in Tennessee. Cost of living here is about 9 percent above the national average, and the average cost to purchase a home is around $467,712. Average rent for a basic 1-bedroom dwelling here is also relatively high at around $1,832. Fortunately, there are numerous retirement and senior living communities available in the area, which allow you to live comfortably without the extra costs that come with being a homeowner in Germantown.
You'll also find many excellent healthcare facilities in Germantown. In the area itself, and within driving distance, you'll find quality care at:
Baptist Medical Group – Outpatient Care Center

Methodist Surgery Center

Baptist Memorial Hospital – Collierville
A number of specialists and PCPs can also be found in the area, assuring that you'll be well taken care of when it comes to medical and health-related needs.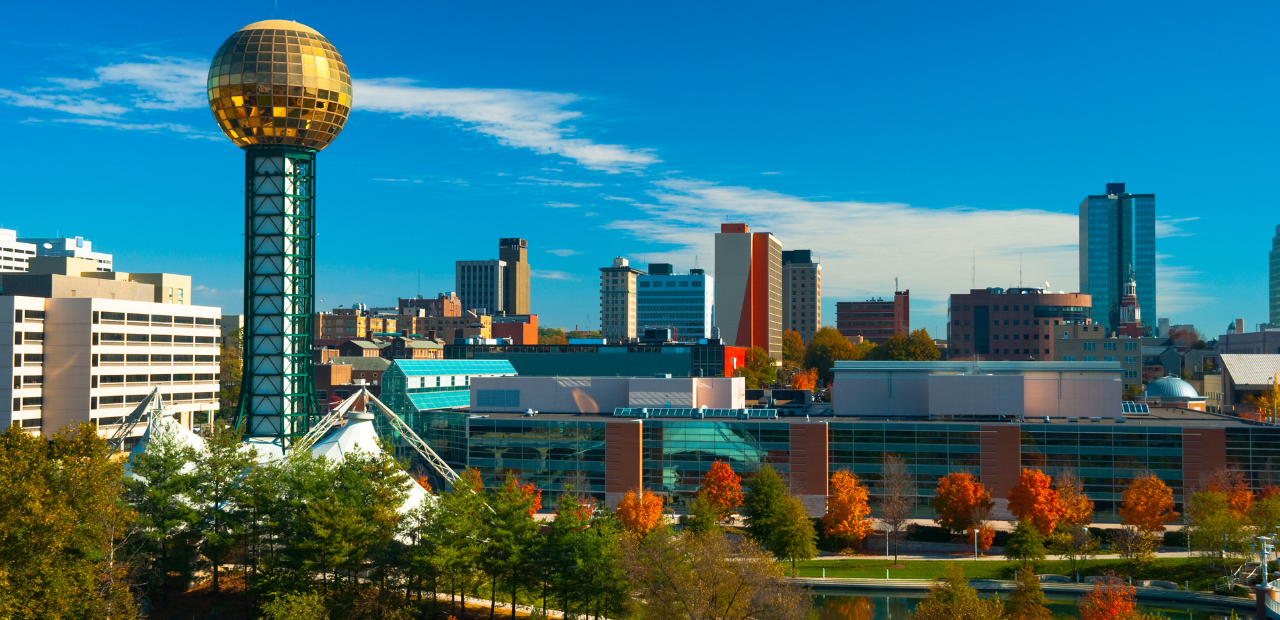 2: Knoxville
The bustling city of Knoxville isn't just a destination for young people who are looking for an affordable big city to settle down and start a career in. It's also a quality spot for retirees who want everything that a big city can offer with easy access to the tranquility of the Tennessee countryside.
Even within city limits, you'll find plenty of chances to stretch your legs in beautiful natural settings. The Ijams Nature Center, UT Gardens Knoxville, and Forks of the River give you some time to be one with nature on walking trails that wind through some of Tennessee's natural wonders, and Zoo Knoxville offers a leisurely stroll through the habitats of exotic animals. If you really want to go back in time, the World's Fair Park, home to the giant Sunsphere, takes you back to 1982, and visits to the Knoxville Botanical Garden and Arboretum and the Blount Mansion will take you back even further!  
As with any major metropolitan area, there's plenty of culture to be found in Knoxville. The city is well-known for fine dining and shopping, as well as its bustling arts district. History buffs, art fans, and sports fans will each find something of interest here, whether you pay a visit to the McClung Museum of History and Culture, the Knoxville Museum of Art, or the Women's Basketball Hall of Fame. If you really want to immerse yourself into the history of the area, South Gay Street preserves many of Knoxville's historic buildings.
Compared to some other cities its size or bigger, Knoxville is fairly affordable for most. The cost of living in the area is around 18 percent below the national average, with the average cost of a house sitting at around $340,000. Rental costs for a base 1-bedroom dwelling can be fairly steep at around $1,099. If the cost of buying or renting a property seems to be too much, there are numerous senior living and retirement communities in the area that are welcoming to new residents.
For your healthcare needs, Knoxville is home to numerous top-rated hospitals. In fact, you'll find some of the best hospitals in the state in Knoxville. Many Knoxville residents trust the hospitals listed below to handle their healthcare needs:
Turkey Creek Medical Center

Parkwest Medical Center

North Knoxville Medical Center

Fort Sanders Regional Medical Center
You'll also find a number of well-respected and highly-rated PCPs, specialists, and clinics in the area.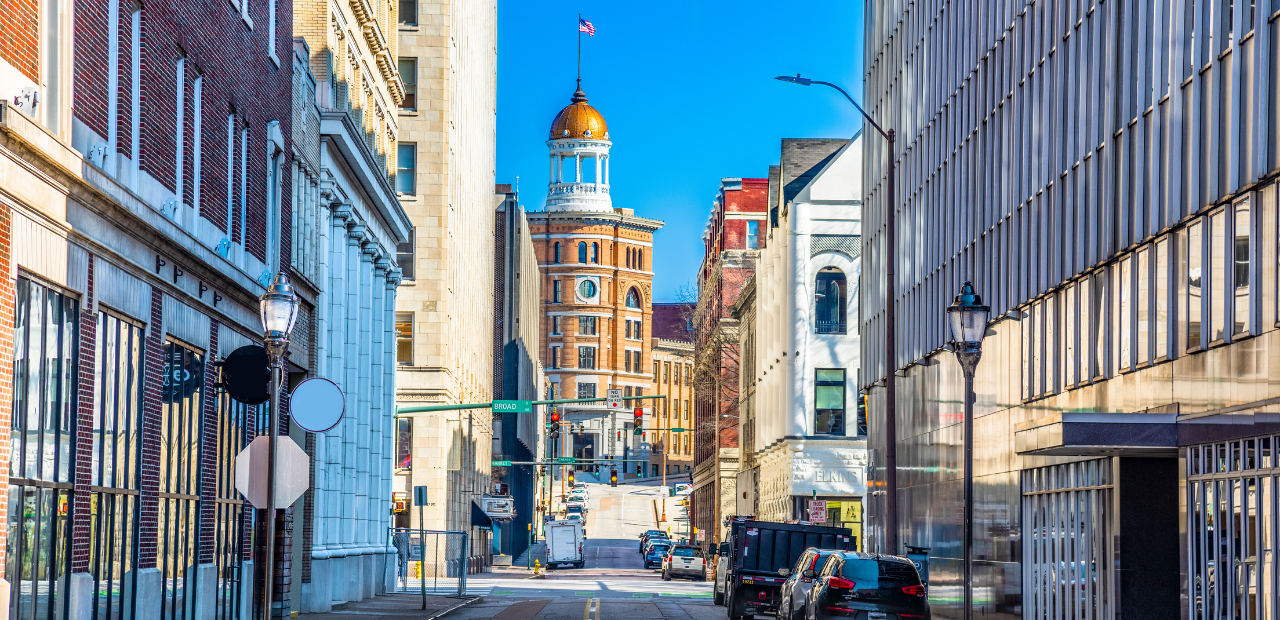 1: Franklin
Last, but certainly not least, on our list of the best places to retire in Tennessee is a beautiful city just 21 miles south of Nashville. Franklin. Franklin keeps one foot in its treasured past while completely embracing the present, which makes it an ideal reason to retire to Tennessee for those who enjoy the nostalgic and contemporary.
You'll find plenty to see and do here. Franklin boasts a number of parks and historical sites for walking, biking, or just spending a quality day outside. Art lovers will quickly take to Gallery 202, a thriving art studio and museum, while history buffs could easily get lost over the course of a day at Eastern Flank Battlefield Park or the Battle of Franklin Museum. If you're looking to challenge your mind a little bit, Extreme Escape Games has you covered.
If there's any downside to living in Franklin, it's the cost. Franklin has, by far, the highest cost of living score of any city on this list. At 135 points, the cost of living in Franklin is nearly 50 percent higher than the average cost of living in the state of Tennessee overall. If you're looking to buy a home, you can expect to pay $695,000 on average, and at around $1,890, the average price to rent a basic 1-bedroom dwelling isn't much cheaper. This would definitely be the place to find an amazing senior living or retirement community and cast off the burden of being a homeowner.
Franklin is home to some of the best healthcare facilities in Tennessee. You'll find a wide variety of top-rated hospitals, PCPs, specialists, and clinics in the area. Some of the highest-rated healthcare facilities in Franklin include:
Williamson Medical Center

Encompass Health Rehabilitation Hospital of Franklin

Saint Thomas Medical Partners

Mercy Community Healthcare – Health Center
How Do I Choose One of the Best Places to Live in Tennessee for Retirees?
As always, our picks for the best places to retire in Tennessee, or the best places to retire in any other state, are subjective. For instance, you may fall in love with a completely different area if you choose to retire to Tennessee! In all cases, it's a great idea to research the area you're looking at to find out if it's right for you.
Find a retirement community in Tennessee that's right for you or your loved ones.
Check ratings and violations.
REGISTER HERE