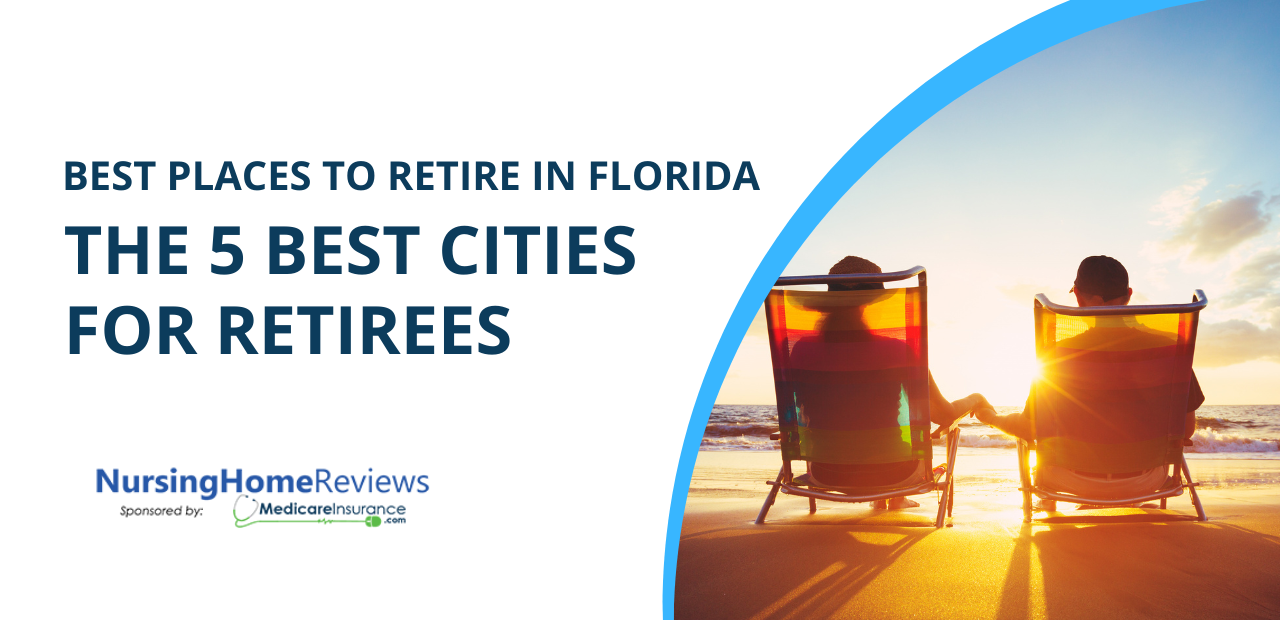 The Sunshine State: a place ingrained into popular culture as the state for retirement. A chance to spend your golden years on white-sand beaches and rolling green golf courses, dining on international cuisine and living out all of your Jimmy Buffet fantasies. But before you pack your bags and bust out that shaker of salt, you have to consider: just what are the best places to retire in Florida?
Here at Nursing Home Reviews, we're dedicated to helping you make the most of your best years, including finding the best places to retire. Using data from WalletHub and BestPlaces, plus a generous helping of local insight, we've compiled a list of the best places to retire in Florida based on a few key factors.
Affordability

Access to Healthcare

Quality of Life

Activities and Attractions
If you think you might want to retire to Florida, read on!

Why Choose Florida?
Retirement in Florida is practically a cliche at this point: some people joke that the only things you can find in the Sunshine State are tourists, retirees, and alligators. However, there are a lot of benefits that make Florida one of the best places to retire.
Weather
It's not called the Sunshine State for nothing. Florida averages 237 sunny days per year: 32 days higher than the national average. That's just over an extra month of sunshine! The climate ranges from subtropical to tropical, with a winter low of about 49 degrees Fahrenheit. However, Florida can get quite hot (with temperatures spiking above 100 degrees Fahrenheit on some summer days), and when it rains, it pours. Florida averages 55 inches of rain per year, with rainstorms in the summer being so regular that you could set your clock by them. Still, it's all worth it for those gorgeous Florida winters. If you're sick of snow, Florida is the place to go. 
Nature
The Floridian ecosystem is unlike any other place in the country. The state's name even means "full of flowers," but that's not even the start of it. Everyone knows about the Everglades: that vast river of grass that stretches endlessly onto the horizon. But did you know that Florida has 11 national parks? You can go scuba diving at Biscayne National Park or explore the old forts of Dry Tortugas. Even local neighborhoods are affluent with nature, where cranes and ibises are a daily sight. That's not getting into the famous white sand beaches and sparkling blue waters. 
Attractions
Everyone knows about Disney World, but there's so much more to Florida than the mouse. You can watch rocket launches off the coast of Cape Canaveral, explore the oldest city in the country in St. Augustine, watch high-speed races in Daytona Beach, or play with the pros at the many PGA golf courses. Are you a theme park fanatic? In addition to Disney, Florida is home to Universal Studios, Sea World, Busch Gardens, Legoland, and countless other local attractions. You can ride classic wooden coasters at Fun Spot America or experience a tongue-in-cheek tribute to Florida's most famous reptiles at Gatorland. You'll never be short on things to do, from amusement parks to airboats.
Affordability
Florida's overall cost of living index is 102.8, which is just 2.8% higher than the national average. This is part of why Florida is so famous among retirees from the Northeast: Florida is a bargain compared to New York's index of 139.1! Individual cities can also have cost indexes in the low to mid-80s, making relocating much cheaper than you might expect. Another boon? Tax breaks: Florida has no state income tax and offers significant tax breaks to Seniors, putting even more money back in your wallet.
Culture
Few states are as culturally vibrant as Florida, which combines the vivid energy of Latin America, the rich spice of the Caribbean, and the classic charm of the American South into a flavor all its own. Arts, culture, cuisine… if it's out there, you can find it here. Watch Broadway shows at the Dr. Phillips Center in Orlando. Experience the finest in international art at Art Basel in Miami. Never mind the countless food and wine festivals to sate your palate when you're not dining in one of the world-class restaurants here. Feeling overwhelmed? Don't worry: you can unwind with a relaxing beach day or sip a glass of sweet tea next to the pool. Florida is as energetic as you want to make it.
Healthcare
Florida's large senior population means it has some of the best healthcare in the country. Not only is healthcare less expensive in Florida than the national average, but it also has some of the best hospitals in the country. The Mayo Clinic and Cleveland Clinic both have hospitals in the state, and local hospital systems like AdventHealth have achieved national renown for their quality of care.
Florida is a vast, varied state, which means that cost of living, quality of life, and local weather conditions make some cities more appealing than others. With that being said, here are the top five places to live in Florida for retirees.
The 5 Best Places to Retire in Florida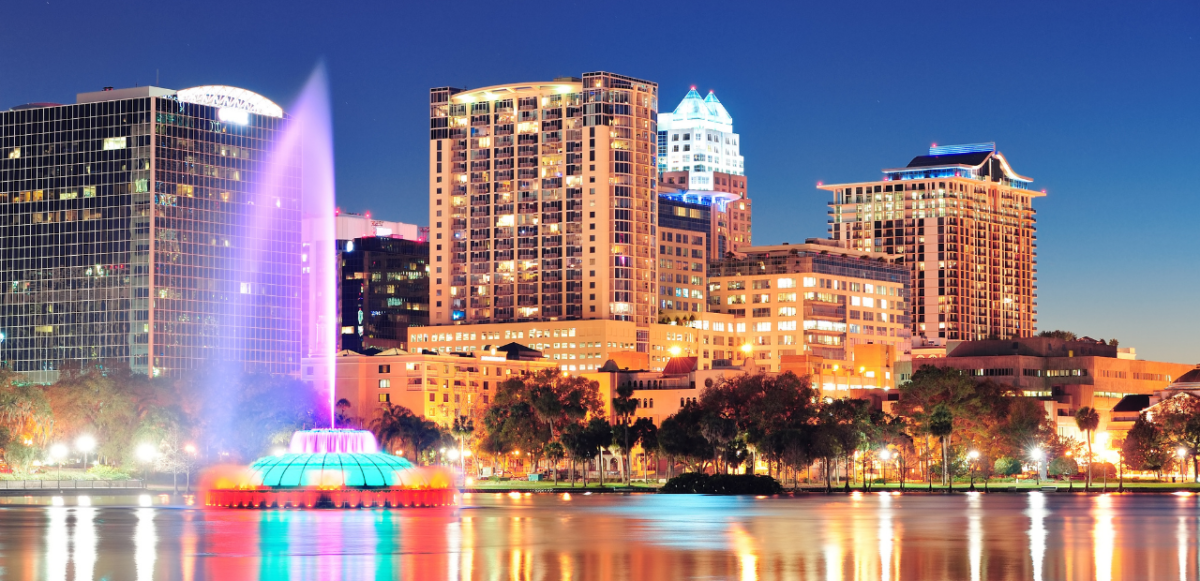 5: Orlando
Orlando, the City Beautiful, is most famous for its many theme parks, Walt Disney World chief among them. This makes it popular among Disney fans and grandparents with families: no better way to tempt them to visit than the promise of Disney. Still, if you think Orlando is just Disney World, you haven't seen half of it. 
The Greater Orlando Area is one of the best cities to retire in. You can enjoy the quaint downtown scene in Winter Garden, home to various chic restaurants and the local Crooked Can Brewery. Golf carts are a common sight on the tree-lined streets of this community, and its proximity to Disney World means your grandchildren will love it just as much as you do. Are you looking for the real Orlando? Wander one of the city's many Main Street Districts to experience the backbones of this vibrant community. Orlando is hard to get bored in, with gorgeous parks and gardens, rolling golf courses, and international cuisine. 
In terms of affordability, the Orlando Metro area is on par with the rest of Florida, with a cost of living index of about 102.9. However, this can vary depending on where in the area you choose to live. Winter Garden, for instance, has an index of 114.2, making it 14.2% more expensive than the average. However, Kissimmee, which is just a few miles away, has an index of just 98.7. These calculations don't consider the many attractions Orlando offers. However: a set of annual passes to the theme parks, golf fees, and the high price of tolls can create some unexpected expenses. Avoid paying tourist prices whenever possible by avoiding the highways and shopping away from the principal attractions and hotels.
Orlando's healthcare system is top-notch. The region is home to AdventHealth, one of the top-rated hospital networks in the nation. The network operates multiple urgent care centers and nursing facilities throughout the region, providing accessible care no matter where you go. Our top pick for a skilled nursing facility in the region is the AdventHealth Care Center in Celebration. Located in the beautiful, Disney-built suburb of Celebration, this facility combines top-notch care with best-in-class amenities like high-speed internet, beauty and barber services, tailor-made meals, and plenty of activities. 
Find your perfect home.
Check ratings and violations.
REGISTER HERE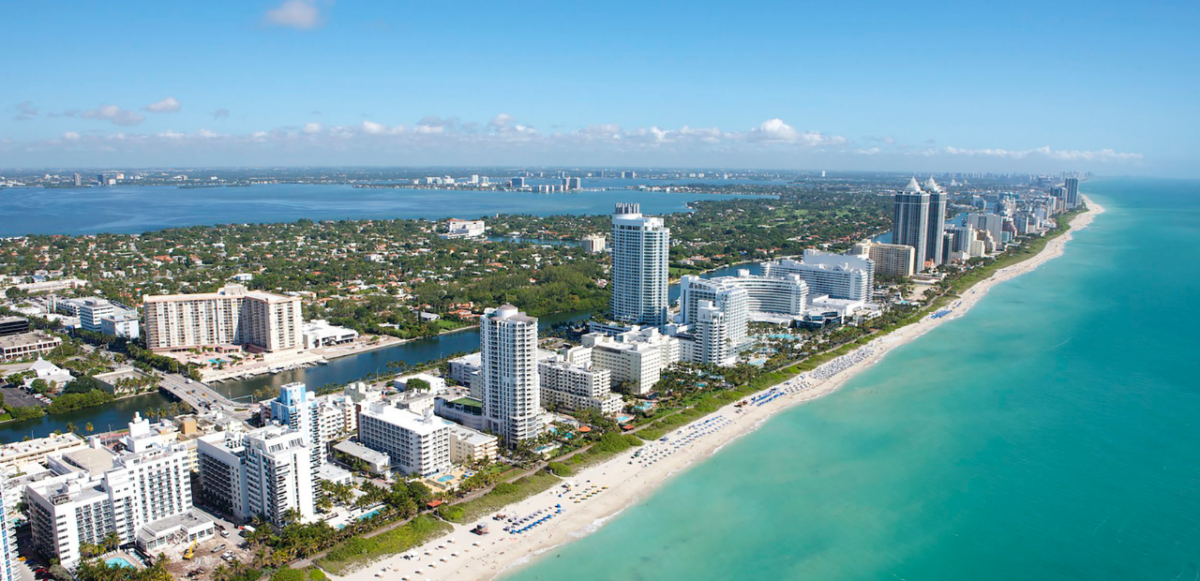 4. Miami
Florida's largest and most famous city is just as appealing for retirees as it is for the Spring Break crowd. With a vibrant nightlife, beautiful weather, and plenty of activities to keep you entertained, Miami and its surrounding suburbs are Florida's crown jewel. 
One of the biggest perks of retiring in Miami is its connectedness: the city is the hub of both the state and the international community. Want to embark on a Caribbean cruise? You can depart right from the local port… but why would you, when you can get all the amenities of the Caribbean at home? Cuisine, music, beaches, art, it's all in Miami if you know where to look. . Countless museums, plus regular art, food, and fashion weeks, make Miami a destination all its own. Still, if you have wanderlust, the proximity to the Florida Keys makes an island vacation as easy as a day trip.
Want to experience all of South Florida but don't want to brave those wild Florida highways? No problem: the new Brightline rail system serves Miami, Fort Lauderdale, and West Palm Beach with luxury service at an affordable price. Extensions to Orlando, Tampa, and Walt Disney World are planned for the near future, meaning you can enjoy the thrills of Central Florida with the tropical vibes of the south, all on the same day.
Miami's healthcare system has some impressive pedigrees. In the suburb of Weston, the world-famous Cleveland Clinic operates a local branch, providing world-class health care at affordable prices. The overall price of care is lower than the national average, so you can rest easy knowing your wallet is safe… at least from that, anyway.
Miami's cost of living index is 123.1 in the city proper and 115 in the general metro area. If your retirement fund isn't rock solid, you might want to consider somewhere more affordable. There's also the matter of weather: while nowhere in Florida is safe from hurricanes and tropical storms, Miami is in a particularly precarious position. Evacuations for major storms are common, and there's a considerable risk of flooding due to storm surges. Even normal weather conditions can result in flooding due to the rising water table, so proper insurance is a must. We recommend choosing a home west of Interstate 95 (the de-facto evacuation line) with storm shutters and underground power lines. Be sure to have a solid storm preparedness plan, as seniors are at higher risk than most during power outages and floods.
Still, if you can afford the price and can put up with the occasional storm, it's hard to beat the gorgeous shores of Miami.
Start your search today.
Find the perfect nursing home for you.
REGISTER HERE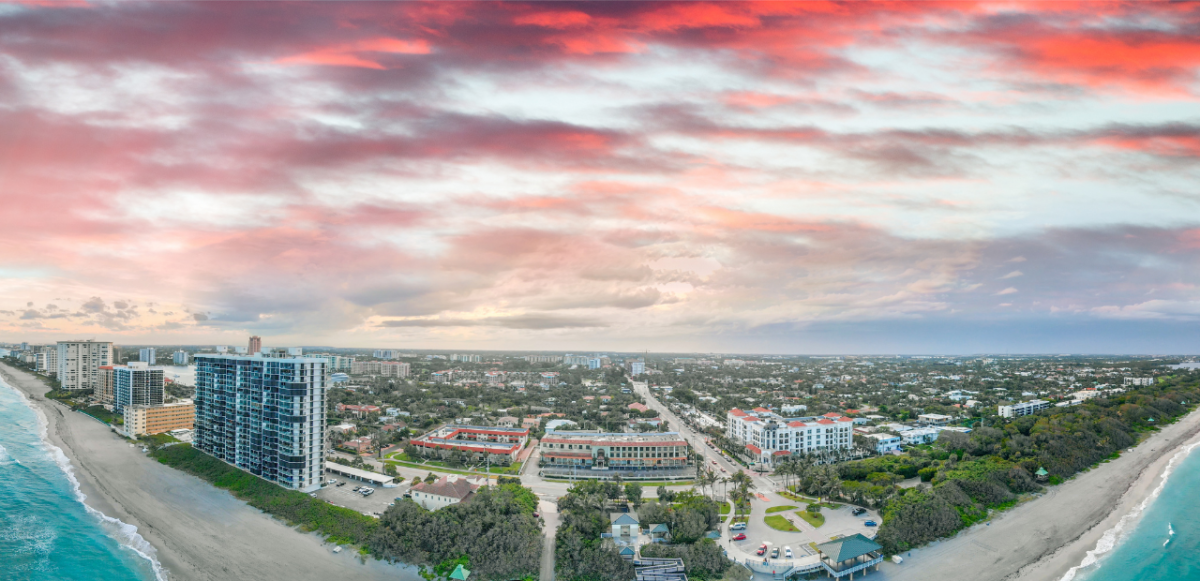 3. Boca Raton
Located in the West Palm Beach area, Boca Raton was the next great resort city, rivaling Palm Beach in its splendor. While founder Addison Mizner's grand design for the city never came to fruition, the city remains a gorgeous destination that combines the cosmopolitan nature of Miami with a more relaxed atmosphere. 
No one is sure where Boca gets its name: local legend states it means "The Rat's Mouth" in Spanish, but that's etymologically inaccurate. It's more likely that the name refers to the rugged rocks beneath the inlet where the city was eventually built, while others claim it was once a haven for pirates. Either way, to compare this city to the mouth of any rodent would be doing it a disservice: with its tropical climate and gorgeous blue waters, the city is nothing short of gorgeous. 
The city's centerpiece is Mizner Park: a combination shopping and residential district built in a classic Mediterranean style. Shops and restaurants line a luxurious central lawn, capped by a theater that hosts live concerts and performances, and the Boca Raton Museum of Art.
Were you looking for something a bit more tranquil? The famous Morikami Museum and Japanese Gardens pay homage to the Japanese immigrant community that once called this region home, showcasing Japanese art and culture in a tranquil garden setting. Be sure to visit the Cornell Cafe to indulge in a delicious bento box as you overlook the koi-filled waters.
Florida Atlantic University has something for everyone. Home to the Boca Raton Bowl, gorgeous nature preserves, and lifelong learning opportunities, it's a must for football fans or anyone looking to expand their horizons. Enjoy gourmet cuisine and art-house cinema at the Living Room Theater. Take a pop-up lecture or sign up for a whole semester. You'll never be short of things to do.
Are you worried about your health? Don't be: Boca's health care costs are below average for the nation, and nearby Parkland is also home to a Cleveland Clinic. 
Luxury comes at a high price, however: Boca Raton's cost of living index is 121, though you can save a significant amount of money by living in nearby Deerfield Beach instead. The nearest amenities aren't as nice, but Boca is just a short shuttle ride away.
You deserve high quality care.
Find which nursing homes are right for you.
REGISTER HERE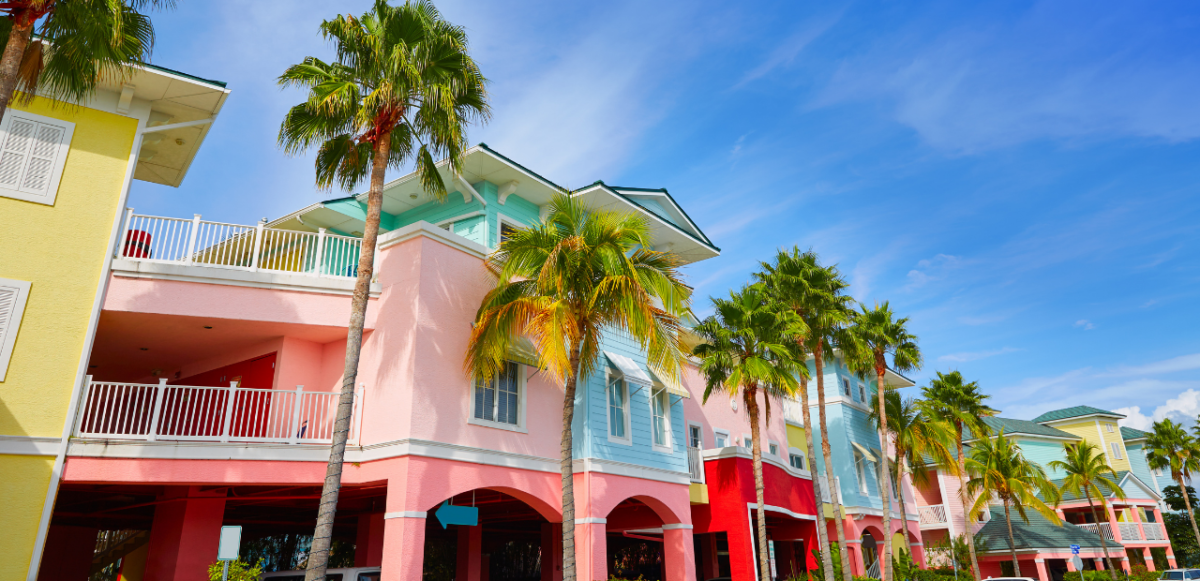 2. Fort Myers and Cape Coral
Fort Myers touts itself as being the second-best place to retire in the entire country, and it's hard not to see why. Even luminaries like Thomas Edison and Henry Ford had winter homes here, which have since been converted to museums showcasing their innovations. Fort Myers is filled with gorgeous nature preserves and emerald green golf courses… but the real treasure is just off the coast.
If you want to experience Florida Island living without paying Florida Island prices, the sister islands of Sanibel and Captiva are the ideal destinations. According to local legend, the pirate captain Jose Gaspar, also known as Gasparilla, held female prisoners on the island of Captiva island for ransom. Of course, historians largely agree that Gasparilla is a fictional pirate designed to attract people to a local inn, but don't tell the locals that: they're having too much fun with it. 
These two gorgeous islands are home to sandy beaches, gorgeous wildlife, and one of the best places for seashell collecting in the world. It's only a short drive from Cape Coral, making it a perfect spot for a day trip. The waters around Fort Myers are also a sailor's dream, letting you live out your own Gasparilla fantasies as you sail through the nearby archipelago. 
Are you a baseball fan? What better way to cap off your day than baseball in paradise? Fort Myres is one of the many places in Florida that hosts spring training: the Boston Red Sox and Minnesota Twins both call this city their spring home, attracting baseball fans worldwide.
Unfortunately, the medical amenities are mediocre compared to some other places in Florida. Of course, that still places them above average, but it's something to consider compared to other spots on this list. The islands, in particular, are also vulnerable to hurricanes: Captiva was infamously devastated by Hurricane Charley back in 2004.
The best part about Fort Myers is the price, with a cost of living index of only 96.2. This jumps up to slightly above the Florida average if you live in Cape Coral and skyrockets if you choose to live in Sanibel or Captiva, so be careful if you're set on an island home. 
Find nursing homes in Fort Myers and beyond.
Have confidence in your care, wherever you choose to go.
REGISTER HERE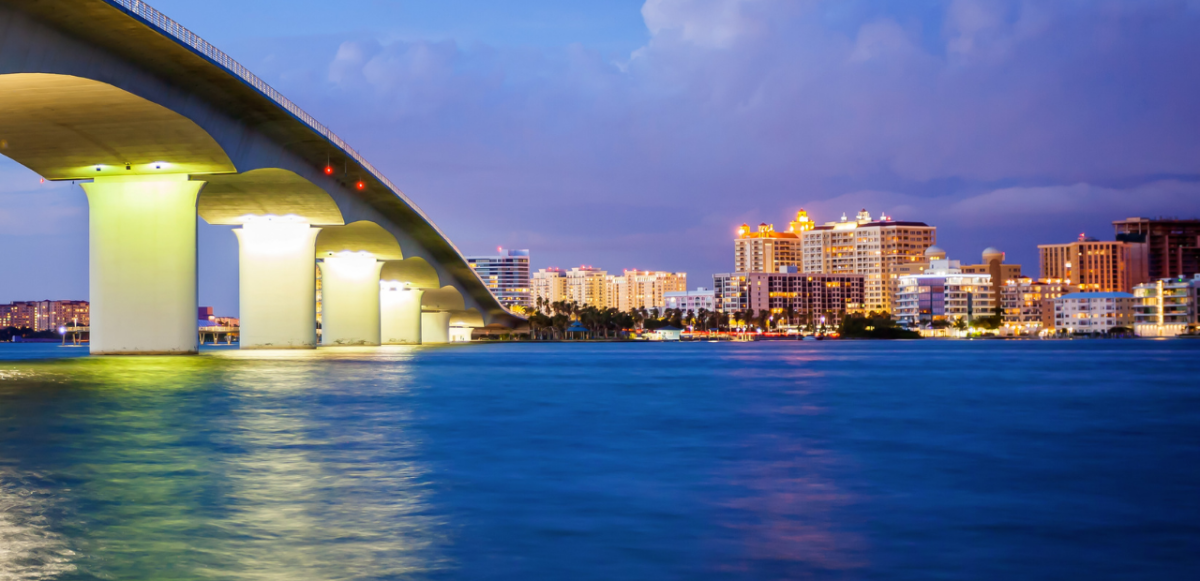 1. Sarasota
Sarasota was ranked the #1 place to retire in Florida by Fox Business and the #1 place to retire overall by US News and World Report. There's a lot of competition for the #1 spot, with cities like Tampa, Daytona Beach, and The Villages all offering a lot. Still, if you want that classic Florida vibe, Sarasota is the way to go.
Sarasota combines some of the best elements of Florida life: white sand beaches, a world-class art museum, gorgeous golf courses, and year-round warm weather. Located just an hour south of Tampa and St. Petersburg, this Gulf Coast paradise has no shortage of things to do. 
Sarasota's most famous residents were John Ringling of Ringling Bros. fame and his wife, Mable. The circus magnate's name is all over the city, most notably the Ringling Museum of Art, which hosts various exhibitions of contemporary art and the permanent circus exhibit.
The cost of living in Sarasota is 102.7, which is slightly below the Florida average, though real estate is higher than in Tampa or St. Petersburg. Healthcare is also a plus here, with highly rated hospitals and an abundance of different medical specialties. 
Overall, Sarasota is a strong choice for anyone moving to the Sunshine State.
Find a nursing home today.
Enter your zip code to begin your search.
REGISTER HERE
It's hard to go wrong in Florida, provided you keep your needs and budget in mind. For Seniors looking to keep up an active lifestyle in a warm climate and vibrant culture, you'll find no shortage of options. However, even if you need a little extra help, there's no shortage of options. 
Here at Nursing Home Reviews, we gather reviews of nursing homes and assisted living facilities, helping you find the best place for you in the Sunshine State and beyond. Enter your zip code or the zip code of the place you want to live to compare nursing homes today!
References
https://www.nursinghomereviews.com/2021/09/24/best-and-worst-states-for-senior-living/

https://wallethub.com/edu/best-cities-to-retire-in-florida/37633

https://www.bestplaces.net

https://money.usnews.com/money/retirement/baby-boomers/slideshows/best-places-to-retire-in-florida?slide=3

https://www.orlando.gov/Our-Government/Departments-Offices/Economic-Development/Business-Development/Orlando-Main-Streets

https://www.foxbusiness.com/lifestyle/best-places-state-retire-florida-2021

https://realestate.usnews.com/places/florida/sarasota