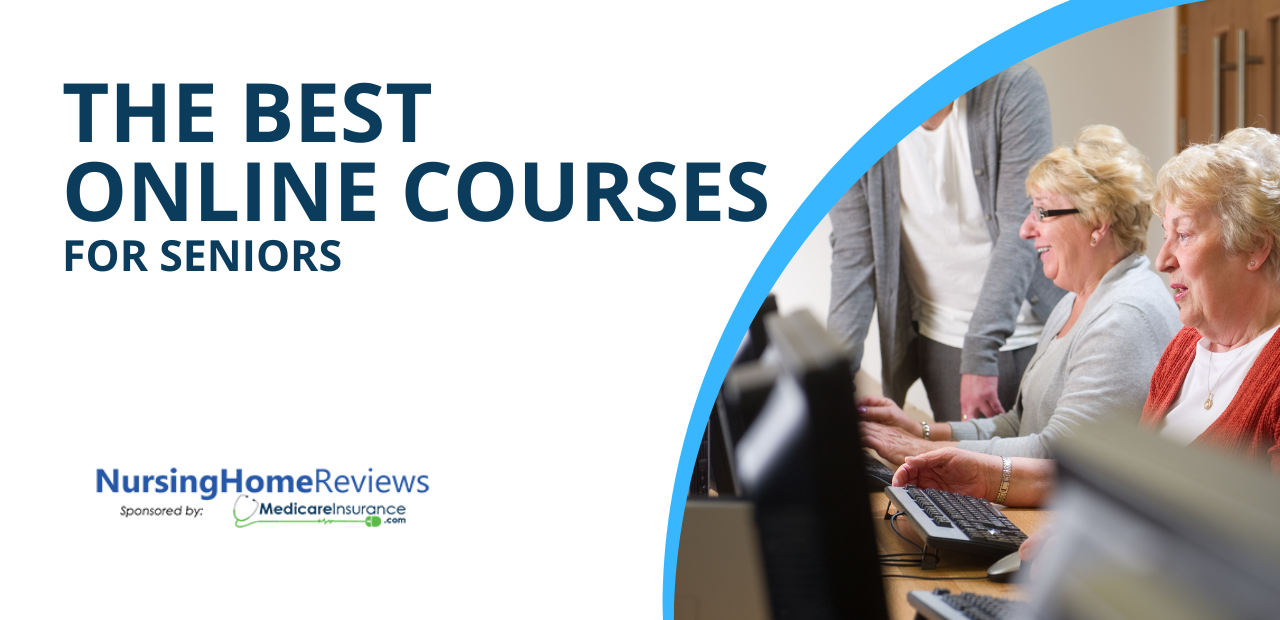 The Joy of Learning Never Fades
As a senior, you may think your learning days are behind you, but as long as you have some access to the internet and basic knowledge for using your device, this couldn't be further from the truth!
While the ongoing global pandemic has definitely put a whole new strain on education and how it has been traditionally delivered, the silver lining is that new online tools and increased remote access has made enrolling in online courses easier than ever before. The best part is, these training and education programs aren't just for kids, but adults and seniors as well!
When it comes to online courses for seniors, there are a variety of benefits. You could dive even deeper into a topic of interest, or you could learn something completely new. Regardless, the available methods of learning virtually are truly limitless these days.
Digital courses aren't the only form of learning you can do online.
Start your search today for the perfect nursing home today at Nursing Home Reviews!
REGISTER HERE
Why should I look into online courses for seniors?
According to a recent story by The New York Times, the number of adults aged 65 and older will outnumber those under the age of 18. Naturally, these demographics indicate that the baby boomer generation still holds a lot of sway when it comes to how society operates and develops.
According to Luke Yoquinto, a research associate at the M.I.T. AgeLab, this growth also means, "that growth of older age demographics will translate to new demand for enrichment in the form of digital education."
"I would say that, for both good and ill, older demographics are going to serve as a proving ground for learning technologies in the coming years," Yoquinto added.
With this information in mind, here are a few other reasons why digital learning is such a great opportunity for seniors.
Online Learning is a Great Fit for Any Schedule
Whether you access the internet via a desktop computer, laptop, tablet, or smartphone, you are always just fingertips away from a virtual class. This convenience, in addition to an increased focus on flexibility and self-directed learning, is a great benefit when it comes to online courses.
Most online classes are organized in a way that gives you, the student, full control over when, where, and how often you check in to learn while simultaneously providing structure to your studies and coursework.
Many online classes for seniors are pre-recorded. This means your learning can be self-paced, giving you the freedom to fit your course into your schedule wherever it makes the most sense for you.
Online Learning is a Great Way to Stay Socially Engaged
As we age, it becomes increasingly challenging to exercise our social muscles. Throw in the recent state of the world, and this becomes even more challenging. While the days of making friends on the playground have passed, a school setting is still an ideal environment to connect with others who have similar interests.
With online courses, you won't have to worry about physical constraints, as you will still have the freedom to interact with others via video streaming, group projects, virtual book clubs, and so many more ways to connect with like-minded people.
In some cases, you may even be able to access free online courses created as part of a larger mission to bring together and educate those with similar means and interests to your own.
Online Learning Supports Cognitive Function
A vital organ, the brain is similar in many ways to any muscle; it requires regular exercise to remain in peak condition. This means that in order to keep your brain strong and healthy, you need to keep it active and engaged.
New experiences, such as those provided through online courses, is a great way to sharpen your mind while simultaneously preserving and strengthening your cognitive function.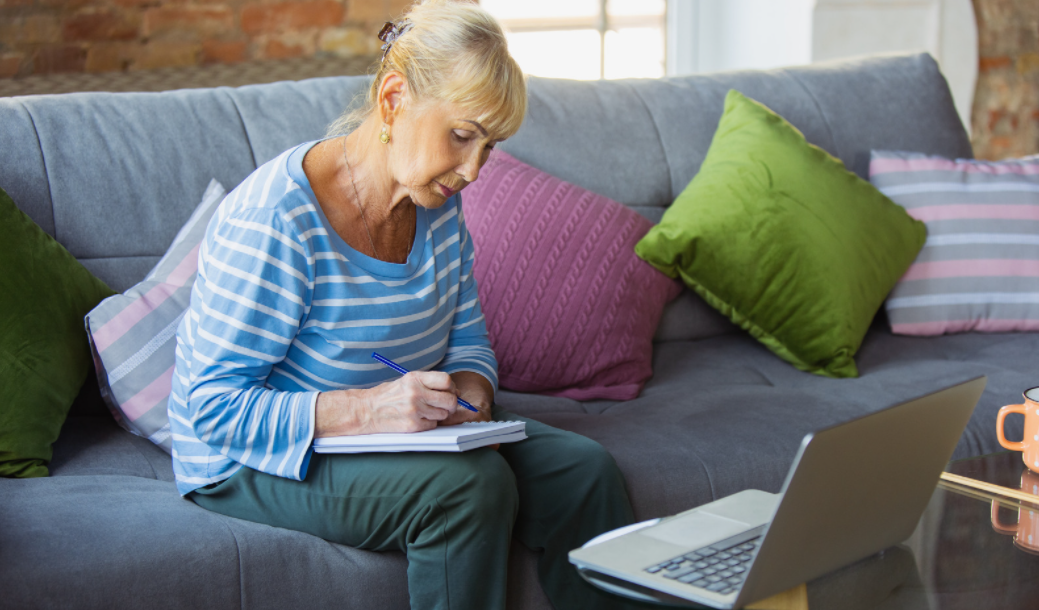 What are some examples of great online courses for seniors?
The available information that can be gathered form online courses these days is truly boundless. 
For many seniors, learning to use the multiple complex technologies that are becoming increasingly integrated into everyday American society is becoming especially challenging.  For others, popular interests have had to take a backseat to accommodate daily living and self-care priorities as they age.
Luckily, online courses for seniors come in so many shapes and sizes, it's possible to learn just about anything you could ever wish to know. A few great examples of incredibly popular and impactful online courses for seniors include:
Blogging and Online Content Creation
These days, information is all about the worldwide web. Many seniors are a great resource of knowledge, wisdom, and storytelling, and an online content forum, such as a blog, is a great way to share your voice with the world.
If you're the type of person who enjoys journaling, or can frequently be found regaling the grandchildren with fascinating witticisms learned from a lifetime of experience, this is the perfect new skill for you.
Internet History, Technology, and Security
Many seniors are prime targets for online scams and social media misinformation. This is only natural, as seniors have much less experience with the online universe than many younger populations. 
You can boost your online literacy with a simple course in internet history, technology and security. This way, you'll develop a broader understanding of how things work online, and what to expect while surfing the web.
Graphic Design
Artistic expression has been a longstanding form of relaxation and therapy for millennia, but as we age, our dexterity and resources may not be what they once were. Luckily, there are a plethora of computer programs that can allow you to draw, design, and create to your heart's content without having to rely on physical mediums.
If you're the type of senior who once loved painting, doodling, sketching, or sculpting, but have recently given up on this hobby as a result of physical limitations, graphic design courses may be a great resource for you. 
Foreign Language Courses
Few skills are as useful or as interesting as learning to speak multiple languages. Thanks to the internet, people from all corners of the globe are interacting with one another more than ever before. Wouldn't it be great to eliminate the language barrier and engage with them directly?

With online foreign language courses, this dream can become a reality. If you love communication and learning about other cultures that are different from your own, this may be right up your alley. You can find online courses on virtually any language that is still spoken on a large scale today, including Spanish, Russian, German, Chinese, Japanese, Korean, and so much more.
Classes in Sustainability and Climate Change
These days, many people have a lot to say about the importance of sustainability and climate change. If you ever wondered what all the fuss was about, you may find it useful to take an online course in sustainability and natural resource management.
This way, the next time this topic comes up during election season or even in conversation at the dinner table, you'll be more than prepared to engage.
Literature Classes
So many of us love to read, but much of the time, we can't seem to find the motivation we need to tackle some of the great literary classics of history. With an online literature course, you could have a whole new reason to pick up a copy of that novel you've been meaning to check out.
A popular facet of literature education is conversing with others to share your thoughts, feelings, and ideas, and what better way to do this than with a virtual class in literature.
Musical Classes
Whenever many people are asked to share one skill they wish to learn, the ability to play a musical instrument is often one of, if not the most popular answer. With an online musical course, you can pick up that guitar or those drumsticks and begin exploiting this new interest at your own pace.
Due to the sheer popularity of this request, there is certainly no shortage of online courses dedicated to playing music or writing songs. 
Disease, Health, and Nutrition
An incredibly relevant topic for both seniors and the current state of global society is disease, health, and nutrition. 
As we age, our bodies naturally become more susceptible to illness, disability, and injury. Most of the time however, much of this risk can be decreased with proper knowledge of how our bodies work. For seniors specifically, it can be helpful to learn the ins and outs of diet and exercise, as well as common health concerns.
Learn more about your perfect home.
Check ratings and violations for long-term care facilities in your area today!
REGISTER HERE
Whatever it is that you or your closest loved ones are interested in, online courses are a truly incredible resource for not only seniors, but people of all ages. If this is something you're interested in exploring, why not start today?